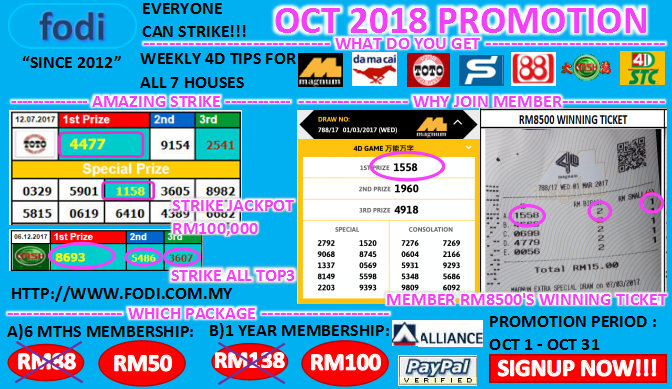 ENJOY 4D GAMES BY USING OUR PREDICTION.
READ OUR 3 SIMPLE STEPS TO JOIN HERE :
http://www.fodi.com.my/default.asp?page=how_to_join
WHAT DO YOU GET?
- YOU WILL GET WEEKLY 4D TIPS FOR ALL 7 HOUSES. THESE 7 HOUSES ARE MAGNUM, DAMACAI, TOTO, SINGAPORE, SABAH, SCS & STC 4D HOUSE.
- THE TIPS ARE 35 NUMBERS FOR EACH HOUSE FOR EVERY DRAW. THESE 35 NUMBERS ARE BOX AND STRAIGHT PREDICTION AT THE SAME TIME.
- CHANCES TO STRIKE IS HIGHER IF YOU BUY THESE TIPS AS BOX. ONCE A WHILE YOU MIGHT WANT TO BUY THESE TIPS AS STRAIGHT.
- THE FOLLOWING IS AN EXAMPLE WHAT WILL YOU GET ONCE YOU BECOME OUR MEMBER:



- ALL NUMBER USUALLY WILL IN THE TIPS CHART FOR MAXIMUM OF 4 DRAWS.
- TIPS THAT HAD STRIKE WILL BE REPLACED BY NEW NUMBER.
2) AMAZING STRIKE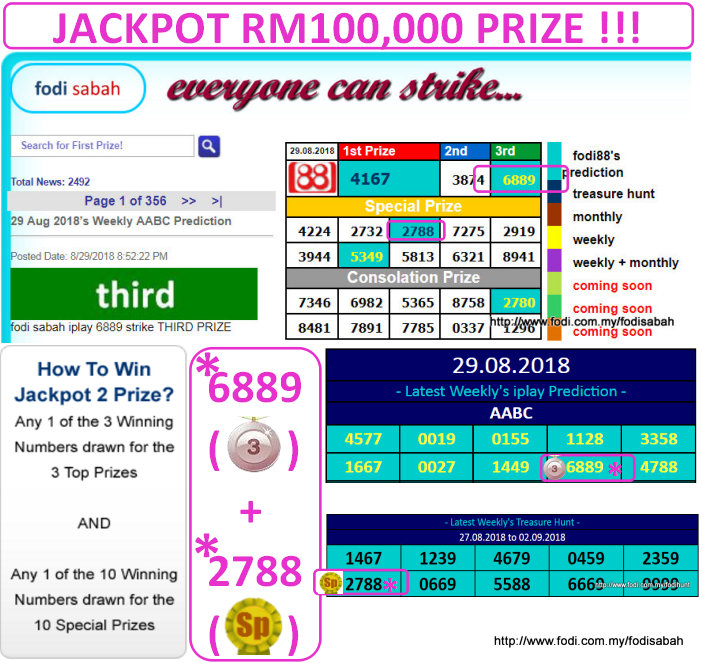 Goodday to all fodi fans and 4d players. lucky that our Sabah straight prediction manage to produce jackpot rm100,000 strike on 29.08.2018. This strike means our fodi prediction continue to produce jackpot rm100,000 strike since 2015. We are happy and feel lucky to see this strike. Hopefully, there will be few more jackpot rm100,000 strike from our site before end of 2018.
This latest Jackpot Rm100,000 strike comes from our Sabah straight prediction. Not sure any Sabah 4d members got follow or manage to choose this combination of number to play and strike. Details is Fodi Sabah straight prediction (6889 + 2788) strike Jackpot Rm100,000 prize money! With minimum rm2 bet, it return you total prize money of rm100,000. Admin not sure any member got strike this prize? Do let us know if you did! (-:
Finally, hope there is few more Jackpot Rm100,000 strike from fodi prediction before end of the year 2018. We at fodi also would like to take this opportunity to wish all members and players all the best of luck and enjoy 4d games with FODI PREDICTION! (-:
3) RECENT WINNING TICKET
a) 28.08.2018 Damacai 3535 winning ticket :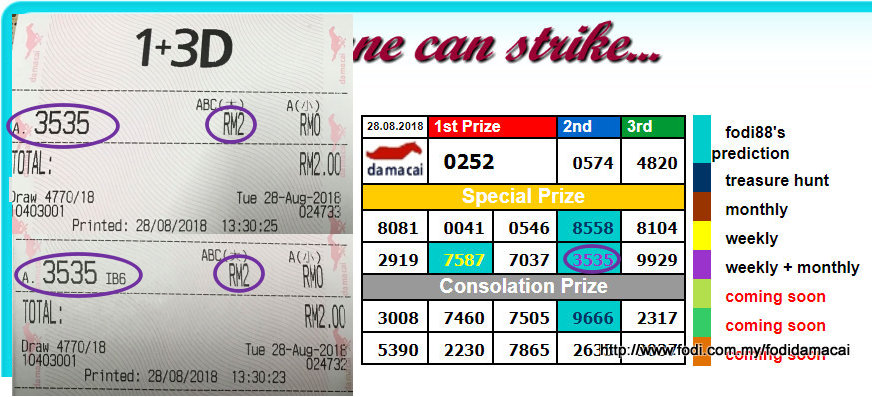 b) 01.08.2018 Damacai 1ST PRIZE winning ticket :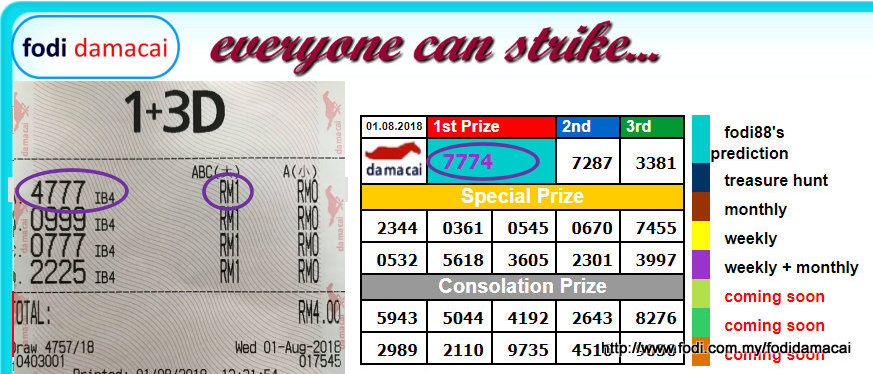 c) 28.07.2018 Toto 3rd PRIZE winning ticket :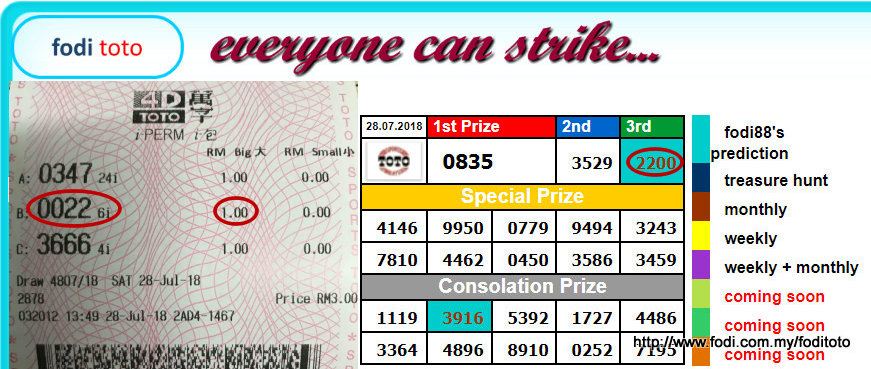 3) Upon joining us, you will get a copy of FODI GUIDE: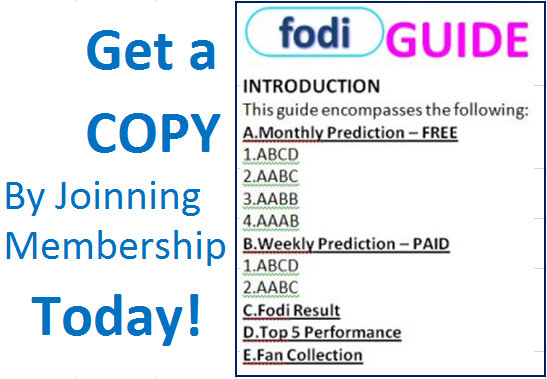 What is inside this guide?
-Profile, Suggestion, Objective, Strategy & Best Performance
- Medals Tally or Winning Record since July 2012.
- Walkthrough or How To Play using PLAY GAP.
- Check your strikes at fodi result
- TOP 5 Performance by each Prediction.
- Fan Collection : A picture of 21 Times strike 2TOP3
at 1 counter within 1 year
4) We accept payment through the following method:
a) ALLIANCE BANK
Deposit to our Bank Account at Counter / ATM / Cash Deposit Machine / Internet Banking
Bank
Alliance Bank Malaysia Berhad
Account Number
080180010236288
Account Name
FODI
b) PAYPAL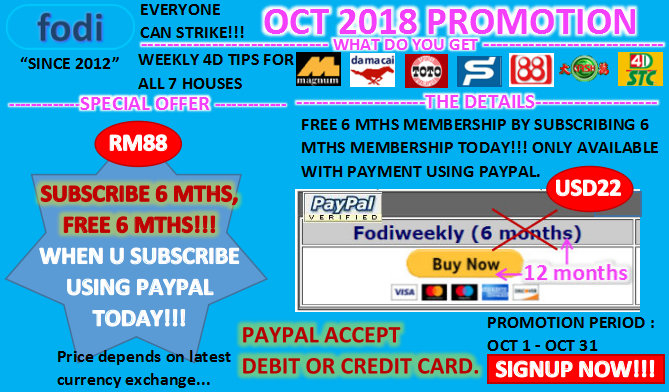 For further details on promotion using PayPal as payment method, kindly contact us at admin@fodi.com.my
MORE INFORMATION COMING IN SOON... STAY TUNED!!!