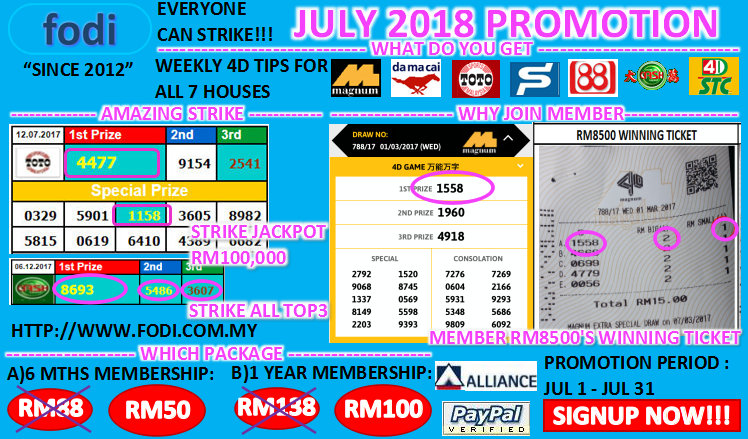 ENJOY 4D GAMES BY USING OUR PREDICTION.
READ OUR 3 SIMPLE STEPS TO JOIN HERE :
http://www.fodi.com.my/default.asp?page=how_to_join
WHAT DO YOU GET?
- YOU WILL GET WEEKLY 4D TIPS FOR ALL 7 HOUSES. THESE 7 HOUSES ARE MAGNUM, DAMACAI, TOTO, SINGAPORE, SABAH, SCS & STC 4D HOUSE.
- THE TIPS ARE 35 NUMBERS FOR EACH HOUSE FOR EVERY DRAW. THESE 35 NUMBERS ARE BOX AND STRAIGHT PREDICTION AT THE SAME TIME.
- CHANCES TO STRIKE IS HIGHER IF YOU BUY THESE TIPS AS BOX. ONCE A WHILE YOU MIGHT WANT TO BUY THESE TIPS AS STRAIGHT.
- THE FOLLOWING IS AN EXAMPLE WHAT WILL YOU GET ONCE YOU BECOME OUR MEMBER:



- ALL NUMBER USUALLY WILL IN THE TIPS CHART FOR MAXIMUM OF 4 DRAWS.
- TIPS THAT HAD STRIKE WILL BE REPLACED BY NEW NUMBER.
MORE DETAILS COMING SOON, STAY TUNED...